Why Alphashare?
Your real estate business solution – straight out of the box!
House hunting, the single biggest purchase in most of our lives and notoriously one of our biggest headaches.
But it can also cause headaches for real estate agents too. It's a full time job keeping up with what properties are on the market and where, remembering which clients need following up, making sure your admin and sales staff are keeping on top of things. If you don't stay ahead of the game, and most importantly stay organized, other agents could entice your customers away and collect the commissions that should rightly be yours.
So what's the solution? It all comes down to your computer and the software that you use – and the right software is to any real estate business what Neurofen is to any headache.
As real estate software specialists our team relieve you of the technical headaches, leaving you more time to do what you do best… sell property!
Alphashare
is the ultimate
Client Relationship Management (CRM)
and
Property Sharing (MLS)
system for any real estate business. On establishing the company back in 2003, the founders had already amassed years of software and networking experience between them – one as a developer of internet solutions for blue chip clients such as Qantas Airlines and Andersen Consulting, the other a Microsoft Certified Engineer and a specialist in hardware and server configuration.
Alphashare was created to fulfil a need in the international real estate industry for a good quality, user-friendly property system. Many agencies complain about sluggish, inadequate software and constant system breakdowns. What Alphashare provides is a stable, quick, virus-free system that works anywhere, on any operating system. It offers tangible benefits for the user whereby they can enjoy increased productivity, increased sales and therefore increased profits, whilst still being very simple to use.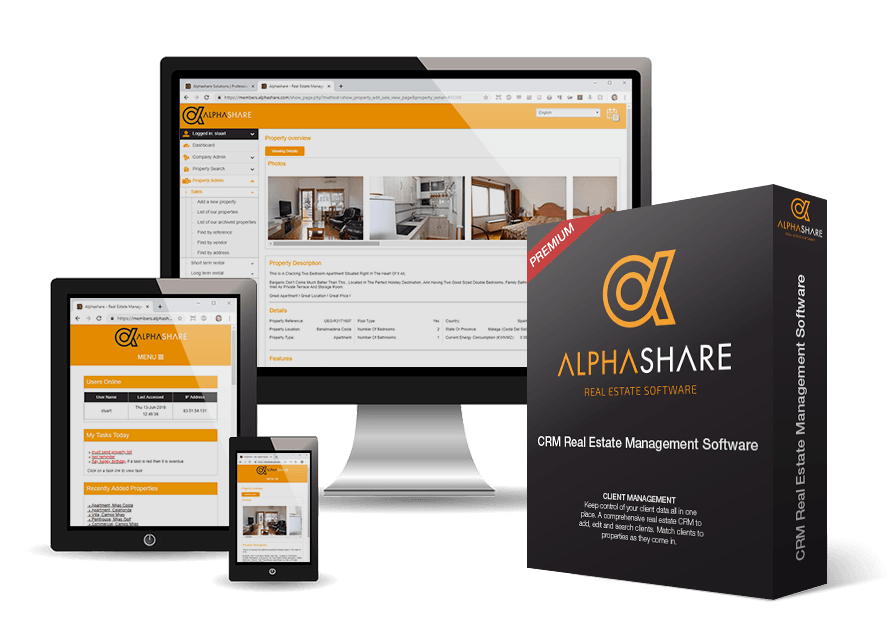 Find out how Alphashare
can benefit your real estate agency!