InmoCo has joined forces with Alphashare Solutions, to bring you the 'Easy & Affordable' Estate Agent Software
Manage your Client Relationships, your Property Data, your XML & Portal Feeds, your Website and your Social Media Accounts all under one roof!
Finally, a real estate CRM that suits any size agency… and budget!
Alphashare is rapidly becoming the Number One go-to real estate agent software in Spain. A simple-to-use, yet very affordable solution that will free up your time to let you concentrate on your more important commission-earning activities.
If you want to be leaps and bounds ahead of the competition, Alphashare is your turnkey solution to turbo-boost your business operations, or start a brand new one – and we can have you up and running in no time at all!
We're always evolving… as you would expect us to!
We only develop features with YOU in mind. We listen to your needs and add new, exciting features weekly! We want to provide you with solutions that are affordable, easy to use and help alleviate your day to day workload. 
Easily connect between your Property Portals* and Partners
Import property XML feeds from anywhere, or export your own to unlimited property portals and partners.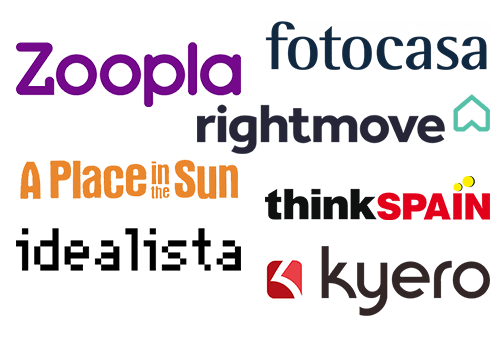 We like to think we are the best Real Estate CRM for any size budget or agency, but please don't just take our word for it… Check out some great testimonials:
"We have been searching a long time for a CRM/CMS that suits our needs. Different systems are either too expensive, too limited or too difficult to work with. Alphashare managed to turn our dreams into a working system that frees up more time for us to spend on other equally important things. The platform gets better every day thanks to the quick response and high skills of the team."
"…we talked through our requirements and ideas in relation to our website branding and then left Stuart and his team to move forward with the design. The final product was exceptional and far exceeded our expectations. The day that we discovered Alphashare was a very good day for us. I have no hesitation in recommending Alphashare, in fact I have already done so on several occasions."
"I have been with Alphashare for over 9 years. Over that time they have built two websites for me, which I am extremely happy with. They are always at the end of the phone if needed and are very professional. Alphashare is a great platform to network with other agents, which is exceptionally good if don't have many direct properties. The system is very easy to use. I would highly recommend any agent to join."
"… [our] decision to use them for our CRM and website was an easy one. Their CRM system is very intuitive. I would highly recommend them. They are also probably the best value CRM system you will find in Spain!"
"Having dealt with various platforms and hosting partners Alphashare are by far in the way the best partners I have aligned with for my business. And they integrated my website seamlessly with my Resales Online MLS account! First class service from day 1."
"Dear Stuart, I wish to congratulate you and your team for a continued fantastic service. As an Alphashare member I can truly recommend your company to other agents."
"We've been with Alphashare for 6 years now, and we're highly delighted…"

…or WhatsApp us and say "Hey 👋🏽 I'm from Inmoco, tell me more!" 
+34 711 009 469